PENTLAND, 1978 (02-20)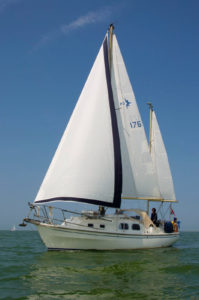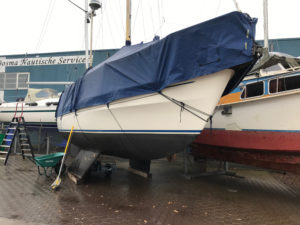 Zeer nette en uitstekend onderhouden Westerly Pentland. Vraagprijs € 18.500-.
Click hier voor een uitgebreide Nederlandse beschrijving.
Click here for an extensive English description.
Zie ook/ See also: https://www.botentekoop.nl/zeiljachten/westerly-33-pentland/746fbd2a-d64c-41b0-a548-af798fc4e7cb
Voor meer informatie: Piet Maclaine Pont, Mobiel 06-41 267 617, e-mail: piet@pietpont.eu
---
STORM 33 SILVER JUBILEE, Fin-keel, 1989 (05-18, 02-20)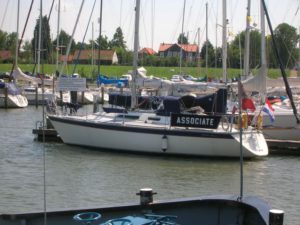 Inventory prepared  by R.Simons. Owner.27-07-2016.
Discreption:
One design cruiser/racer with 7 beds in a 3 cabin layout launched in march 1989. I bought it in 2003 from first owner in UK.
Builder Westerly Yachts LTD. Yard no: YF 108.
Year 1988 lauched in  march 1989. Loyds certificated.
Construction GRP  Polyester.
Fin keel.
LOA 32.10" (10.12 m.) Beam 11 " Registerd tonage 8.56 Tons. Rig: Masthead.
Desiner: Ed Dubois( whitebread races ).Volvo Penta overhauled in 2002 18 HP.
Machinery:
Volvo Penta 2 cylinder diesel 18 HP. New water pump 2003. 50 amp alternator.
2 x batteries new 2014.
TWC battery management system.
Solar panel trickle charger on coach roof with regulator under chart table charging domestic battery.
Fixed propellor with rope cutter on shaft.
Fuel capacity 18 gallons ( approx 70 ltr.) Fuel consumption 2 ltrs per hour at 2.200 rpm.
Two stainless steel watertanks totalling 80 gallons.( one forward 30 gallons, one after 50 gallons. Both with automatic electric pumps working on water pressure.
Sails and spars.
Double spreader masthead rig with stainless steel shroud plates.
Stainless steel standing rigging ( new 2000 ) with split backstay and backstay adjuster.
Roto stay 2 reefing gear with removable drum. Roll foresail system.
Spinnaker pole and sheets/guys-blocks, downhaul and uphaul.
Kicking strap.Topping lift. Slab reefing, lines led to cockpit.Signal halyards.Harness lines on deck.
Mainsails. Ratsey & Lapthorn and North.
No 1 Jib 23.31 m2 Brand new march 2016 not used ( invoice value Euro € 2.449,–).
No 1 storm Jib 3 years used. ( need new lead/pace max costs Euro € 250,–)
No 2 genoa ( race sail) by Ratsy & lapthorn with sacrificial strip.Excellent status.
No 3 Large Genoa north. Very good status
No 1 Medium Genoa North. Very good status.
Spinnaker 1 x 1056 sq ft.
Spinnaker automatic opening cover system.
Cruising Chute half winder.
UV  protection cover for foresail.
UV protection cover for mainsail.
Custom made layjacks for main sail.
Deck equipment.
White hull with dark blue boot line.
Twin bow roller.
35 lb plough anchor with 50 ft calibrated chain.Simpson lawrence manual windlass.
Stainless steel bow wand stern pulpits with gate.
Boarding ladder.
2 foredeck, 4 midships and two stern cleats.
Drained gaslocker with two gas bottles.
One lifebouy new 2011. One overboard system ( new 2011.)
5 Fenders new 2016.
Manual fitted bilge pump with handle.
2 Bulkhead compasses new 2010. 2 two speed halyard  and 2  two speed foresheet winches. 4 winches handles.
Sprayhood new 2008. Spare sprayhood with cockpit tent new 2000.
2  pockets. New 2008. Tiller steering woth cover. Spare tiller.2 splashsails new 2008.
Spinlock tiller extension with spare.
Twin foresail tracks with car for each. Mainsheet track and traveler. Named dodgers.Boat hook.
Navigation.
Navico 6500  ( mariphone) VHF  radio with windex arial at masthead.
Raymarine ST 60 instruments ( new 2000 ).Windspeed and direction, dept hand log,, multi.
Auto helm ( raymarine) 4000 Tiller pilot ( new 2000) with fluxgate compass.
JRC radar ( new 2000) all interfaced with Fixed Garmin GPS.Barometer.Findell Radar reflector fitted to mast.
Cabin equipment.
Double berth forecabin with hanging locker and washbasin.
Port and starboard single settee berths with lee cloths.
Double berthe conversion.
Charttable with seperate chart seat.
Flavel Vaness gas cooker ( new 2000 ) with  two burners, grill and oven. All gaslines and regulator renewed 2000. Rubber gasline to oven renewed 2011.
Drained coolbox with isotrerm 3000 Fridge ( new 2000)
Battery charger  Victron blue power 220 v- 12 Volt 17 amp . New 2012.
Converter 12 v – 220 V. New 2012.
Twin stainless steel sinks in tilled worktop,cutlery draws.Chopping board.
CD/Radio withinternal and external cockpit speakers.
Seperate heads with mirrod cupboards and sink.
Rear cabin with twin berth and hanging locker.
New cushions fitted 2000.Headlining to main cabin forward and rear cabins renewed  winter 2002.New cabin floor 2005. New main cabin hatch fitted feb 2003.
New toilet (  waterpump). New 2004.
Yacht papers. Manufacturer instructions, handbooks for fitted equipment.Westerly owners handbook.
Extra's.
3  Lifejackets. Necessary tools.
Cutlery and plates/glasses/cups and mugs.
Personal navigation equipment incl sextent & binocular.
Flatsreen  television mounted to wall with turnable bracket.
General remarks.
After purchase  in 2003 yacht was only sailing on sweatwater lakes in holland.
During winter period ( 6 month's each year  ) yacht was removed from water to avoid osmose.
Each year engine has been controlled and adjusted by dutch Volvo penta dealer.
Status.
Yacht is in a complete excellent status and is immediately available.
Asking price: 22.000 euro
R.Simons.
Havendam 15 A.
3161 XB Rhoon.
Holland.
Tel: 00-31-10-5011199.
Email: info@medi-trade.nl.
---
Uw Westerly niet gevonden?
Kijk dan bij de Nederlandse ex-Westerly dealer SKIPSHANDEL: